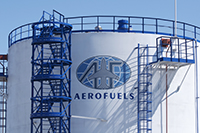 In March, 2017 the State Research Institute of Civil Aviation FGUP of the Ministry of Transport of Russia issued to Aerofuels-Blagoveshchensk LLC the Certificate of Conformity for air services jet fuel supplies in the international airport of Blagoveshchensk (registration ¹ ÀÒÎ 130217.020). Today the certification is held within Voluntary Certification System of the civil aviation facilities and covers acceptance, storage, preparation to delivery, delivery for refueling and aircrafts refueling with jet fuel.
The results of the inspection confirmed conformance of Aerofuels-Blagoveshchensk refueling complex to all requirements for arrangement of the whole complex of services for aircrafts refueling with jet kero and anti-icing fluid.
Aerofuels-Blagoveshchensk LLC is a member of TZK network belonging to Aerofuels Group of Companies, and it possesses their own up-to-date refueling facilities and qualified staff. TZK guarantees their customers a high-quality certified jet kero refueling having passed the required laboratory inspections and tests, and usage of the equipment meeting the Russian and international standards.