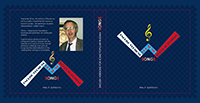 Late last year a collection of the most popular songs by Vladimir Vysotsky, as well as other authors, translation into English was published.
Unique translations were made by Alexander Spiridonov, Chairman of the Board of Aerofuels International, a successful businessman, a translator and a man creative in his all undertakings and projects. The book had a lively response of the readers and was highly appreciated by professionals, leading professors of the Faculty of Translation and Interpretation of Moscow State Linguistic University.
According to S.V.Brand, Senior Professor of Department of English language Translation and Interpretation, one of the merits of the translations offered to readers is that "they are skillfully sustained in the relevant meter and number in line with the rhyme", thanks to which texts in English can be easily put to original music. Accurate reproduction of images born by the Russian and Soviet environment of the 20th century enables a foreigner, not familiar with the primary texts, in some degree to feel a power and depth of the original works, and enables the Russian-speaking reader to open favorite and so familiar songs in a new way and quite unexpectedly.
E.M.Kirsanova, Head of English language department, wrote the following in her comments on the book:
"It is a very diligent and careful work with a poetic text by Vysotsky emotional concept of which is transferred through an original author's performance due to a thoroughly selected lexis. The author managed to preserve semantics and rhythmic of Vysotsky's poetry to the maximum".
Specialists think that the book can be definitely interesting not only for the admirers of Vladimir Vysotsky's and the 20th century singer-songwriters' works, but also for philologists - English native speakers.