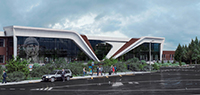 The building of international air terminal in Cheboksary was built in the sixties. The up-to-date requirements of safety, technological parameters differ greatly from those which were used during construction, and even a structure of passenger flow changed. Previously the airport accommodated small aircrafts: the Soviet airplanes housed from 5 to 60 passengers, and thus, the airport capacity of 100 passengers per hour satisfied demands of interregional transportation. The modern aircrafts are more spacious: 189 passengers – it is an average load of typical Boeing which is mainly operated by airlines and performs flights to the airport of Cheboksary. It is quite clear that the current air terminal capacity is not sufficient, and that influences not only passengers handling but significantly limits the airport during scheduling, and holds passenger flow. Besides, at the present time Rospotrebnadzor requires obligatory fulfillment of preventive antivirus measures, which means social distancing between passengers. To meet this requirement is also difficult, as the space is too little and queues are inevitable during baggage delivery.
In 2015 Aerofuels Group of Companies offered an investment project on Cheboksary air hub development and air terminal building reconstruction. And in 2016 MACh LLC (member of Aerofuels Group of Companies) began to prepare for a wide-scale work. After all required approvals upon land issues, in August 2020 the project of reconstruction passed to Glavgosexpertiza. While the process is in progress, which takes not less than three months according to regulations, contractors have been selected and procurements have started. In the course of reconstruction the second floor will be returned to operation, and besides, the building will be extended due to additional premises construction. Total area will be increased up to 5500 square meters, and the airport capacity – up to 200 passengers per hour.
It is obvious that a spacious and convenient airport will make Cheboksary more attractive for arriving tourists, because it is the first city infrastructure facility which meets guests, and it is very important that it will look nice and comfortable. On the other hand, increase of air terminal capacity will make it possible to generate schedule more flexible and to attract new flights.
With regard to a large-scale work on the airport reconstruction, at the present time negotiations are being held with airlines concerning launching of flights to Yekaterinburg, Novy Urengoy and Mineralnye Vody. If agreement with airlines is achieved and if the flights are included in the Federal program, new departures in Cheboksary will be opened already in January 2021