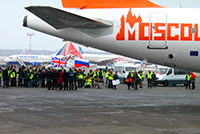 The first refueling of British low-cost air carrier in Russia was carried out by the company of Aerofuels Group of companies.
The first regular flight of EasyJet airlane company from Moscow to London tool place on March 18. The first refueling of a British low-cost air carrier in Russia was carried out by Shell &Aerofuels included into Aerofuels Group of companies.
"It is very pleasant for us that such long-awaited in Russia and popular in Europe air carrier has chosen our joint venture with ShellAviation as partner for aviation fuel supply in Domodedovo airport. We know that British low-cost airlines lodges high demands both for rendered services quality and servicing speed in the airport", - Vladimir Spiridonov, General Director of Aerofuels Groups commented.
In March and April the airline plans starting one more daily flight to London and a flight to Manchester. Refueling of these flights will be also carried out by forces of Shell&Aerofuels. Shell&Aerofuels regularly provides aviation fuel supply services at milestone events in Moscow airport. Thus in March the company refueled the first regular flight of Boeing 787 Dreamliner. And on October 16, 2009 Domodedovo – the largest airport of Russia – accepted the largest passenger airplane in the world Airbus 380 for the first time on its route to Southern Korea to Seoul International Aerospace&Defense Exhibition. Refueling was also implemented by Shell&Aerofuels company.
Nowadays joint venture is operating successfully in the largest airports of Russia – Domodedovo and Pulkovo; its customers include more than 30 foreign air carriers.